About ME: I'm a stay at home, single mom of two boys. We have 2 dogs, a cat and a sugar glider. I also run my own daycare out of my home. Needless to say, burning candles in my home seemed a little scary for me with so much going on. I heard about Scentsy from a neighbor of mine and then again through a friend who had joined Scentsy. After learning more about the product and how safe it was for my home, I joined the company. After all, I could use a little time away from the home every now and then, and who wouldn't want to get paid to party? I shared Scentsy with everyone I knew and promoted 4 times in 6 months to become a Star Consultant! It's been an amazing experience so far and one of the best decisions I made!
About SCENTSY: Scentsy Wickless candles are a safe alternative to regular candles. With Scentsy candle warmers, there is no flame, no soot, and no lead - so no worries! Instead, each skillfully designed ceramic Scentsy Warmer uses a low-watt bulb that gently melts a specially formulated highly scented wax Scentsy Bar, releasing delightful, long-lasting fragrances in any of your favorite rooms.
Scentsy warmers come in several sizes, from Plug-In Scentsy Warmers that fit small areas like bathrooms and laundry rooms to Full-Size Scentsy Warmers that make a statement in any room – offices, reception areas, dens, kitchens, even dorms. They are the best wickless candles! With more than eighty Scentsy fragrances to choose from and with our extensive assortment of designs, finishes and colors, you will have no trouble finding Scentsy candle warmers to fit your office and home décor; there is no reason to worry about candles ever again!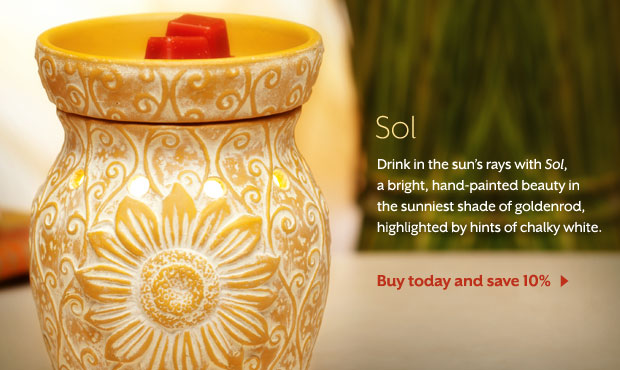 August Party!!!! Scentsy!!
Party ends August 29, 2011
Every person who purchases any item at all will be entered into a drawing to receive all the hostess benefits from this party! Let's help a WAHM mom out while getting great products at a great price! If you are interested in becoming a Scentsy consultant please contact Robyn to find out more info on a great business opportunity!!
How to ORDER: Go to my website: https://sweetrld.scentsy.us/Home and clock on the BUY tab at the top. When you are asked what party to join, find the "Mystery Host; The Free Life" Party and buy under that tab. Mostly all Scentsy products are 10% off for the month of August, so you can get an awesome product for an awesome deal! Whoever orders the Warmer of the Month (SOL) will get a free bar of the Scent of the Month (Just Breathe) from me personally.
--
Robyn Dunbaugh
Scentsy Star Consultant
https://sweetrld.scentsy.us/Home
571.309.7278